Actually she wasn't. Dylan was the most perfect, most beautiful flower girl I've ever seen. We were all so nervous before hand but she did great! She was supposed to walk down with the ring bearer, but we decided she'd walk with her Auntie Manda instead. I knew it was the wrong order, but I knew that walking with Auntie would be the only way she'd get down that aisle. The family members were under strict instructions to not talk with her until after the ceremony was over (if you read my previous post you'll know why). I left Auntie with a little bribery tool (sweedish fish) and went and took my seat.
Finally it was time to start, I listen for screaming...none. Then I see my baby girl walking with her Auntie (eating sweedish fish) and I started crying: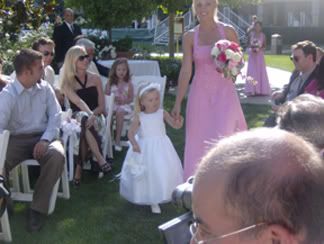 There was a moment of hesitation when she got to the end of the seats, but with Auntie holding her hand she went. She saw us sitting right on the end and sat with us for the ceremony. In all it was very uneventful (thank goodness)! I'm so proud of her, I can only imagine how frightening that was for a 2 year old.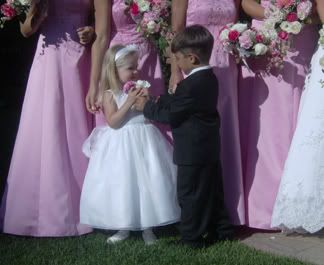 The true bratty Dylan made an appearance during the reception so a call was made to grandma and she came and saved the day.